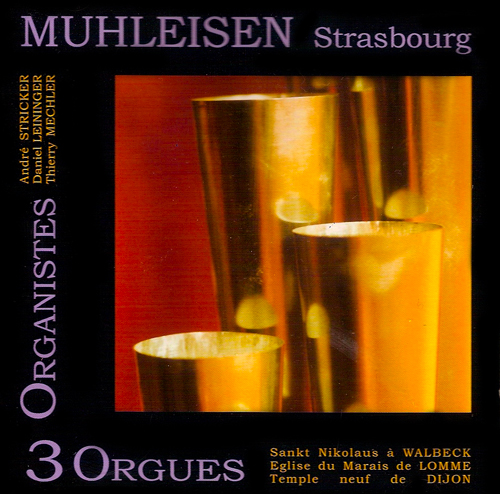 Trois orgues, trois organistes,
1994-05-06
Walbeck (D), Mülheim Michaelskirche (D), Dijon (F)
Reference 1994-ARM
Previous track button
Next track button
This CD presents 3 organs from Muhleisen's workshop.
These new organs have been built employing historic pieces that connect to the past, influencing strongly the design and aesthetics of each instrument. They demonstrate respect for the traditions practiced in the workshop Muhleisen.
Pièces of Boyvin, Marchand, Corette, Guilain, Kellner, Kuhnau, Bach, Krebs, Homilius, Mendelssohn, Bartok, improvisation.
links to the description of the 3 instruments :
Walbeck Sankt Nikolaus
Lomme Eglise du Marais
Dijon Temple réformé
link CD booklet (part)
http://muhleisen.free.fr/CD/53_livret_extr.pdf
CD available by Muhleiisen, price ~15€
link to contact page Muhleisen.fr